Want some higher rankings in Google ?
Wanna beat all your competitors in SERP ?
Need an All-in-one Seo tool ?
In this Serpstat review, you will learn many things about it and I think, you will fall in love with it.
When it comes to Seo tools, we will start thinking about one tool,it is nothing other than SemRush.
SemRush is really a good seo tool for blogger's and internet marketers. If you are new to blogging, you might haven't heard about SemRush. For you guys, Here is the SemRush review.
Day- before yesterday, i've written an article on
Kwfinder tutorial
. Kwfinder is one of the best Semrush alternative which costs less when compared to SemRush.
Like those, SerpStat is also a very good
SemRush alternative
and can be used for improving search rankings of our blog.
Not only that, SerpStat is really helpful in beating all your competitors and stole all their rankings and traffic. More traffic= more money, So it is a must to use this awesome and amazing seo tool.
In this blog post, We will write about SerpStat features , Serpstat vs SemRush , How to use it for improving SERP ?
So what are you waiting for, Let's dive into the blog post.
Must read
:
Small Seo tools - A small look
Best Semrush alternatives ( free )
Serpstat review
Serpstat
is really a good tool for bloggers and internet marketers. This tool is growing rapidly in the industry and I think it may beat many other Seo tools. This is an unbiased review and I am informing you that an
affiliate link
is placed at the bottom of the article which gives me some commission, if you purchase Serpstat through the link. I promise you that the affiliate link won't increase any rates of the product.
Serpstat Pricing
The pricing of SerpStat starts from a small price of $19/month,Making it the cheapest Seo tool for internet marketers. But keep in mind that, it is the starting plan.
The biggest plan ( Plan E ) costs $499 per month, making it one of the costliest seo tools for business purpose.
SemRush plans starts from $49/month and the largest plan of SemRush costs $69/month, Making the large plan more cheaper than SerpStat.
But the starting plan costs less in Serpstat and high in SemRush. So when it comes to Pricing in Serpstat vs SemRush, SerpStat is awesome and clear winner.
Tools and features
Here are the important features of Serpstat. I know that I missed some features, but keep in mind that these are the important tools of this tool.
Domain analysis :
Input the URL of a blog and give Serpstat some time to analyse it.
Serpstat gives you so much information on the domain includes :
Top organic keywords
:
How was the blog getting organic traffic ( Traffic from search engines ) . It will show you the keywords, How much volume does the keyword have, How much CPC does the keyword have and How much position does the blog got for the keyword. In the above example, you can see, I analyzed http://shoutmeloud.com and provided the list of below keywords :
You can see in the above image not only Keywords are provided, other information is also provided like :
Position
:
Where does the blog ranks for the given keyword, In the above case, you can see ShoutMeLoud ranks on the 1st position for all the keywords.
Volume
:
An approximate value about How many monthly searches were made on the keyword. If you got the 1st position for a keyword with volume 1000, you will get 1000 visitors approximately with the help of the post.
CPC
:
How much Cost per click does the keyword have ?
Backlinks
:
Serpstat analyzes all the backlinks for the domain and present only 5 of them for you.
Backlinks plays a viral role in ranking if a blog post. The more links you have, the more easier to rank.
Building backlinks is hard for beginners. A best way to build links is spying. You can spy on your competitor links and try to earn them like he did.
In the domain analysis, Serpstat provides the list of backlinks for the domain. It will show you some extra information like Nofollow/Dofollow, Serp Trust rank ( Own metric of SerpStat, Interesting right ) etc.
Lost backlinks
:
Earning backlinks is tough,but losing them is easy. But loss of backlinks results in Loss of Search rankings and that results in loss of traffic and that results in loss of traffic.
In the domain analysis, it will show information regarding how many backlinks does a domain lost ?
You can recover them by contacting the admin and get your rankings back. In this Serpstat review, This is an important and interesting tool which provides good information to the blogger.
Also keep in mind that, Semrush never checks for lost backlinks. So in the battle of Serpstat vs Semrush, serpstat is the winner in checking backlinks.
Backlink Checker
In the domain analysis, we have seen that the result contains information about backlinks. But it will only show 5 Links.
But what about the remaining links ?
Does a blog only have 5 links ?
Not at all, When you click on show full backlinks in domain analysis, you will be redirected to this tool.
This is the backlink checker tool of Serpstat and it really provides quick and accurate list of the backlinks for a domain.
It will also show some metrics like Serpstat trust rank to decide the quality and health of a backlink.
At the same time, when you click on Show full backlinks on lost backlinks section of Domain analysis, you will be redirected to this tool which contains the list of lost backlinks too. The lost backlink checker is one of the main tools in Serpstat review.
Keyword research tool
No need of any introduction for bloggers with some experience and for new bloggers, here is a small definition :
Keyword research is nothing other than finding and selecting keywords which helps is to rank higher in search engines. Selecting a wrong keyword may won't give you any higher rankings.
So selection of right keyword is a must, you can read this guide on Proper keyword research and learn more about it.
Serpstat comes with a handy keyword research tool and it is also very accurate.
I searched for the keyword " Seo " and here are the results :
You can see that, this tool gave us the volume, Competition and CPC of the keyword.
And a list of some more keywords which is related to our keyword.
Keyword rank checker
Have you Written a fantastic and seo optimized article ?
Waiting for your post to be indexed in Google ?
Yes, finally, your blog post was indexed. But, How much position you got for the keyword ?
Are you typing different, search queries and surfing many pages in SERP and wasting so much time and sweat ?
The quick solution for your problem is keyword rank checker tool by Serpstat.
Input your keyword, Input your domain URL, Select search engine and click on track.
It will does the work for you and instantly checks the first 100 results in Google and checks whether your blog post is ranked or not.
If ranked, it will show, how much position you have got in SERP, making it easier to keep a teach of your keywords.
In this Serpstat review, This is the time saving and accurate data providing tool.
Site Audit
Is your blog optimized for search engines ?
If no, this tool is for you. In this Serpstat review, this is the most important tool which you must use.
Because this tool checks each and every aspect of your blog and gives you result about " Which aspect is killing your blog ? " and after knowing about the aspect, search about how to recover from it and you can easily optimize your blog for search engines.
Optimizing a blog is not only the thing for achieving a good SERP.
Removal of bad aspects is also a key to rank higher in search engines.
How to use Serpstat for improving SERP'S
Using keyword research tool
:
On page Seo starts with keywords,
So keyword research is very important for every blogger.
According to me, Serpstat provides one pf the best keyword research tools and the tool is so accurate.
For improving SERP, you should check out low competition keywords which you can easily find through the keyword research tool of Serpstat.
The keyword research tool provides us so much accurate information about the competition of a keyword. I would suggest you to check out keywords which have competition less than 30 ( Easier to rank ).
Using competitor analysis
:
How the hell was your competitor able to rank higher than you ?
To beat and stole his traffic, Analyse his domain using the domain analysis tool and know " Which keywords does your competitor use ? ".
Stole his keywords and stole his traffic.
For example, your competitor is using a keyword " Best and free keyword research tools ", Now write about the same thing ( Topic ) and try to rank higher ( Use many on-page seo tricks and build some links to the blog post ).
Then you will get all the traffic of your competitors.
At the same time, Analyse your competitors backlinks and try to build backlinks in the same way for your blog and this improves SERP.
So, in this Serpstat review, this is the tutorial to use Serpstat effectively. Simple but powerful tricks.
Serpstat vs Semrush
Actually SemRush and Serpstat offers the same tools. But, SemRush has a large database of Domains and keywords where as Serpstat has small database of domains and keywords ( Hey, this is a new tool ) .
But, Serpstat is more accurate in finding competition of keywords.
At the same time, Serpstat is more cheaper than SemrRush.
That's why, Serpstat is the clear winner ( Only for small and medium bloggers ) and for professionals, SemRush is the winner.
Buy Serpstat Now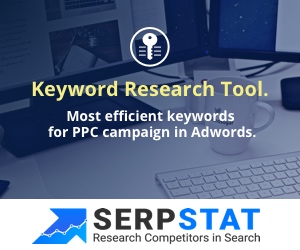 Wrapping Up
This is a clear and unbiased Serpstat review for bloggers. I recommend you to buy this tool right now or you will miss so much traffic for your blog. In future, I may write " How Serpstat increased my blog's traffic " and till then, wait for the article and subscribe for us.
Read More